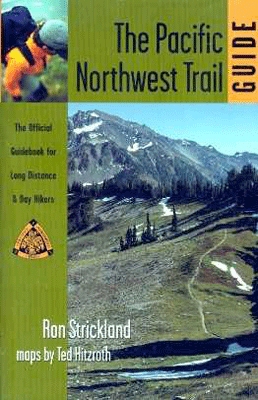 Pacific Northwest Trail Guide: The Official Guidebook for Long Distance and Day Hikers
(Seattle: Sasquatch Books, March 2001.) Here is the second edition, official guide to the spectacular new long-distance trail that stretches 1,200 miles from Glacier National Park in Montana to Washington's Olympic National Park. From the Rocky Mountains to the Pacific Ocean, the Pacific Northwest Trail is a unique hiking experience, offering an attractive variety of backcountry scenery and outdoor adventure. Like other long-distance routes-the Appalachian, Pacific Crest, and Continental Divide Trails-the "PNT" is accessible to everyone from dayhikers to thru-hikers. This comprehensive guide features detailed route descriptions, a 17'-wide fold-out overview map, topographic maps, mileage charts, and information on planning, navigating, and re-supplying a trip.
"It is a trail hound's where-to-go, what-turn-to-take guide stuffed with dozens of topographic map sections, pragmatic tips (e.g., supply points) and your choice of routes."      Seattle Times, May 3, 2001
"It is a very well written and organized guide. Ted Hitzroth's maps are outstanding."      The Distance Hiker's Gazette, Newsletter of ALDHA-WEST, Summer 2002
"Hikers of all skills will value this handy comprehensive guide." Northwest Family Magazine
"Hitzroth's maps are a marvel of condensed information, and Strickland knows exactly what information hikers of all intents and skills need to have."  Statesman Journal
[The first edition of the PNT guidebook was published in 1984 by the now-defunct Writing Works.]
Want a FREE copy of the Pacific Northewst Trail Guide? 
Sign up for my newsletter, its short with fun tips and photos about some of my favorite hiking topics. (I promise upon pain of death not to share your information with anyone). You will receive a confirmation email and a link to enable you to obtain a free download of the out-of-print, 2001 "congressional route" guide to the Pacific Northwest National Scenic Trail.